Deck Repair
---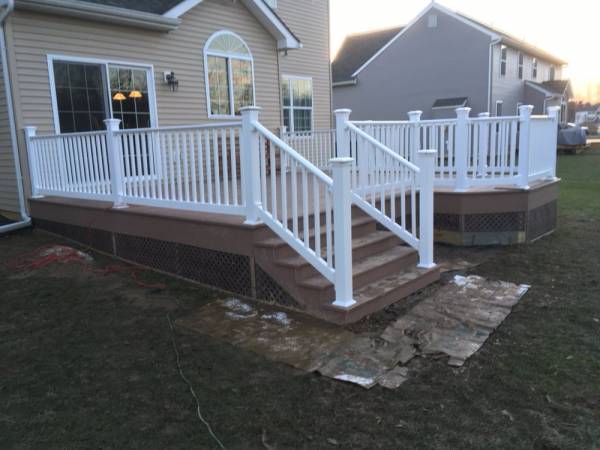 Are your deck joists no longer secure? Has rain, snow, or old age caused wood rot or loose deck boards so that you no longer feel safe using your deck? Our deck repair services will have you and your family enjoying the outdoors on your deck again.
Don't let an old deck rob you of great outdoor cookouts and expanded outdoor living space. As a deck contractor, Paradise Ridge Builders can replace old wood or repair damaged joists and offer deck sealing to get your outdoor space ready for full use again.
Our deck contractor services include deck restoration through seasonal pressure-washing to remove mold and grime from your deck, patio, or porch surface and leave it clean and looking like new. We also offer deck staining and deck sealing services.
Water pooling, wood rot, structural weakness are all common issues with decks. Our skilled deck repair contractors can help determine which deck repair services will solve the issue or if a deck replacement is the safer choice.
Contact us for Deck Repair - or - Call Us: 717-587-1720
---
Deck Repair FAQ
What Kind of Decks Do You Repair?
We will professionally repair wood, composite, and PVC decks in the Chester County, Lancaster County, Berks County, York County, and surrounding areas. We can also replace deck railings and stairs. Even if you have an extreme situation where a major overhaul is needed for your deck, including deck foundation repair or replacement, our skilled deck repair contractors can help!
What Type of Deck Repairs Do You Specialize In?
We will perform all types of deck repairs including:
Updating or replacing railings
Foundation structure repairs
Re-decking
We can help you determine the best course of action for your deck repair, just
give us a call
to get started!
How Much Does a Deck Repair Cost?
The cost of an average deck repair can range from $1,000-$15,000 depending on the type of repair needed, the size of the deck, and the cost of the materials. The average foundation repair is $2,000-$5,000. Small refinishing jobs could be closer to the $1,000-$1,800 range. The average cost for railing replacements is $4,000. Deck resurfacing carries the biggest costs, and that can range from $12,000 - $15,000. To learn more about pricing, read our article on How Much Does It Cost To Repair A Deck, or request a custom quote today.
What Is Your Deck Repair Service Area?
We routinely offer decks repairs throughout southcentral PA. This includes Chester, Berks, York, and Lancaster County. Please see map below for a visual representation of our service area.
Why Should We Choose Paradise Ridge Builders?
Simply put, we are deck repair experts. You can rest assured that the project will be completed according to standard building codes by our professional staff. We offer over 25 years of construction experience, from building houses from the ground up, to roofing, siding, and deck building for homes of all shapes, sizes, and degrees of difficulties with terrain and other obstacles. We understand how buildings are designed structurally and we understand the standard building codes for structural supports and designs.
Customer satisfaction and quality workmanship are our top priorities, and it shows in our reviews. Read a few reviews from some of our many satisfied customers below.
---
"Daniel was very pleasant to work with and he did a beautiful job renovating our porch. He was very accommodating and listened carefully to what we were looking to do. They kept the site extremely clean and finished the job very quickly."
- N Pollack
07/26/2021
"Daniel, Thanks for an amazing repair job on my deck. Looking forward to many nice days with a good book and a cup of coffee. Your hard work shows you take pride in your chosen craft. I am sending you a well earned 5 star review. Thanks again!"
- Dawn Harple
04/28/2021
---
---