Roof Repair in Lancaster & Chester County
---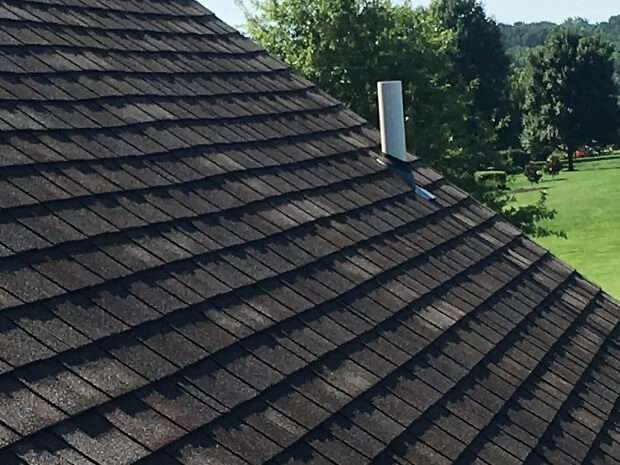 Leaky roof? Shingles cracked or missing? Don't risk DIY roof repairs when a professional can fix it and keep you safe on the ground! We offer economical roof repair by skilled roof tradesmen. Your roof repair cost will be nominal compared to the cost of ignoring needed roof repair.
As a Certainteed Master Shingle Applicator, and featuring years of experience working with GAF or other roofing shingles, Owner Daniel Fisher can inspect your roof and assess what repairs are needed to get your home securely sheltered.
Following your roof repair, we will take precautionary measures to remove debris from the work site and protect your property. You'll be left with a solid roof that will last for years to come.
Common Reasons for Roof Repairs
Ordinary wear & tear
Storm damage (debris or missing shingles)
Wind damage
Hail damage
Holes
Water damage, gutter backups, excessive moisture
Has your roof suffered storm damage? Chester and Lancaster counties can experience some fairly rough storms and it's not uncommon, especially in the summer, for strong winds and hail to impact homes in the area. Call Paradise Ridge Builders to assess the damage left behind by severe storms. We'll inspect your roof or siding and give you a quote for the roofing services it will take to restore your home's shelter.
We are based in Paradise, Pennsylvania and can travel throughout Lancaster and Chester counties including Ephrata, Manheim, Downingtown, Exton, etc. If you're close by, please click the button below to contact us to learn how we can help!
---
Roof Repair FAQ
What types of roofs does Paradise Ridge repair?
We specialize in repairs of asphalt shingles or EPDM rubber, which are quite common for our Lancaster and Chester County neighbors.
What is your roof repair service area?
We've repaired roofs throughout Chester, Berks, York, and Lancaster counties. Included below is our roof repair service area map.
How much does it cost to fix roof leak?
The national average to fix a roof leak is about $1,000-1,500. Depending on the complexity and size of your leak, your cost could be upwards of $15,000, or as low as $300 for a simple leak. Factors like roofing type and material, size of the leak, structure of your roof, and design features all play a part in the cost to fix your leak. Trusting professionals to do the work will ensure that your get the job done right the first time. While some leaks may be expensive, replacing a neglected leak and the damage it can cause inside is much worse.
How can I find a roof leak?
Locating a roof leak can be a tricky job. You will want to first identify signs of a leak from inside, if possible. Then, you can work to locate the leak from the outside by inspecting your roof. For signs of a leak inside, you will look for: Water stains on walls or ceilings, musty or moldy odors, and bulging sections of interior walls. When locating a leak from outside of the house, you will want to look for: Missing, damaged or warped shingles, water-damaged exterior siding, and if you have a metal roof, you can look for rust. Call a professional to make sure you locate your leak quickly and accurately to avoid major damage and expenses.
What does hail damage look like on a roof?
Hail can cause serious damage to a roof, so it's important for homeowners to be able to recognize the signs. Identifying hail-related harm includes checking for cracked, split and missing shingles as well as dents on metal surfaces such as vent pipes or HVAC components. Additionally, granular displacement from asphalt composite materials is another indicator of trauma inflicted by hailstones!
How do you replace or repair missing roof shingles?
While today many projects are considered "DIY", replacing or repairing your roof shingles isn't always one of them. Unless you have experience with roofing in particular, the job is best left to the pros. Improper repair or replacement can lead to major damage to the surrounding roofing shingles, and end up costing much more than it would have in the first place. We don't recommend attempting to fix your own roof due to safety reasons and the many challenges that may arise. However, if you are set on replacing your roof shingles by yourself, here is how to do it…
If you want to save money on roof repairs, one of the best things you can do is learn how to repair your own shingles. With a few simple tools and some know-how, you'll be able to tackle most minor problems with your roof. Let's take a look at the process for replacing damaged shingles.
1. Gathering Your Materials
Before you start any roofing project, it's important to make sure that you have all the necessary materials on hand. For replacing individual shingles, you'll need a claw hammer, flat pry bar, utility knife, and a replacement shingle (or two if the damage is extensive). You'll also need a ladder tall enough to reach the damaged area of your roof safely and comfortably. Make sure that everything is in good working order before starting—your safety depends on it!
2. Removing Damaged Shingles
Once everything is set up and ready to go, it's time to remove the damaged or missing shingles. Start by using your hammer and flat pry bar to gently lift the edges of adjacent shingles until they are loose enough for removal. Be careful not to damage them in the process! Once the old shingles are out of the way, use your utility knife to trim away any excess tar paper from around the edges of where the new shingle will be placed.
3. Installing New Shingles
Now it's time for installation! Place your new shingle in position and press down firmly on either side so that it lines up with adjacent shingles. If you're replacing more than one shingle at once, make sure that they fit snugly against each other without any gaps between them. Once everything looks secure in place, use your hammer or flat pry bar again to gently tap down around all sides of each replacement shingle until they are fully secured into place.
4. Things to Note
Replacing individual roof shingles may seem intimidating, and for good reason. If you have any doubt, call a professional like our team at Paradise Ridge for help. Remember that safety should always come first when tackling any kind of home repair project – especially one as high up as this one! Saving money is great, but not if it puts your safety at risk.
How do I patch a hole in the roof?
Patching a hole in the roof is similar to replacing your roof shingles in that if done improperly, you could end up spending more than if you had a pro do it in the first place. If you are confident that you can patch the hole yourself, here are some tips to consider.
A hole in the roof; A homeowner's worst nightmare. We of course recommend getting expert advice when it comes to executing lasting roofing repairs. However, if you have an emergency and need to patch up your roof quickly, or need a temporary fix to save money, here are some pointers that can help you. If hiring a pro isn't in the budget right now, you can patch up small holes yourself and save some money in the process. Here are some pointers on how you can patch up a small hole in your roof without having to hire an expert right away.
What You Need Before You Start
Before you start patching up that hole in your roof, make sure you have all the supplies necessary for the job. For starters, you'll need some roofing cement or asphalt shingle adhesive for waterproofing. You'll also need some metal flashing if there's any chance water could seep under the shingle and drip into your home. Lastly, you may want to pick up some sealant tape to help protect the edges of where your patch meets the existing shingle.
Once you have all of your supplies ready, it's time to get started! The first step is to brush away any loose debris from around and inside the hole itself so that nothing gets in your way while patching it up. Next, apply a generous layer of asphalt shingle adhesive or roof cement around the edges of the hole as well as over its surface area; this will form a secure bond between your new patches and existing structure once dry.
Next apply metal flashing over top of your patched area and secure with nails every few inches or so around its perimeter; this will help ensure that no water seeps through any gaps between your patched area and existing structure. Then finish off by applying sealant tape along all sides of where your patch meets existing structure; this helps keep moisture out while also enhancing waterproof properties even further. All that's left now is to let everything dry overnight before putting additional weight on your repaired area such as snow or furniture during winter months.
Patching up holes in roofs isn't always easy but it is doable! With some basic tools and supplies like asphalt shingle adhesive, metal flashing, and sealant tape handy, it is possible to patch up your own roof successfully as long as you're willing to put in a bit of work. Just remember not to overload any patched areas with too much weight until everything has had time to properly dry overnight before attempting anything else. If you get stuck or feel overwhelmed, give us a call today. Paradise Ridge is happy to answer any roofing questions you have.
Why should we choose Paradise Ridge Builders for roof repair?
With our decades of hands-on construction experience, we're well equipped to handle your roof repair or other home and property maintenance tasks. Our clients love how we leave your home as clean as when we arrived, leaving no trace of the materials or debris that some repairs can include. We treat your property like our own, and we look forward to meeting your roof repair needs.
---
---