Gutter Repair
---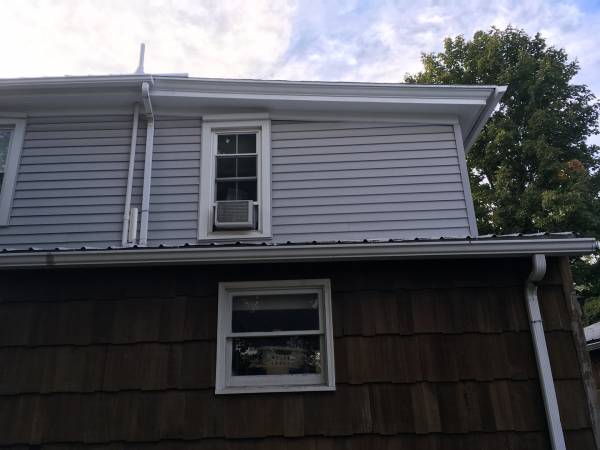 Your rain gutters are crucial to keeping damaging water away from your home's foundation. Leaky gutters or damaged sections in your home's gutter compromise that system.
Small rain gutter repairs can mean huge cost savings in the end. Your home's gutter system needs to successfully divert water from your home to prevent erosion, basement flooding, and damage to your landscape. Ignore a break in the system and you'll soon realize the mistake in doing so.
We offer gutter repair services in which we can diagnose the issue and fix your home's gutter system so it's back to effectively pulling water away and preventing it from pooling around your home's foundation.
Your gutters may only need minor repair, such as sealants, patches, and hanger replacements, or something as simple as a gutter cleaning. Let our professionals determine the severity of your gutter repair and get that protective perimeter around your roof back in shape.
---
Gutter Repair FAQ
How Much Does Gutter Repair Cost?
The cost of gutter repair can vary depending on several factors, including the extent of the damage, the materials used, and the region you are in. On average, gutter repair costs can range from $100 to $500. To get a more accurate estimate based on your specific situation, call Paradise Ridge Builders today.
Who To Call For Gutter Repair
Don't underestimate the importance of your rain gutters. Water starts to collect quickly in mild to heavy rain downpours. This water needs to be migrated intentionally to avoid puddles and flooding. If rain water isn't directed away from your home or certain spots in your yard, then water can seep into your walls, the wood frame, and even your floors. Rain damage can account for major expenses down the road. Call Paradise Ridge Builders today to make sure you are ready for rain all year round.
What is your gutter repair service area?
We can repair gutters for those located in Chester, Berks, York, and Lancaster counties. Included below is our gutter repair service area map.
How To Fix A Leaky Gutter
When it comes to properly assessing and fixing a leaky gutter, you will want to trust one of our professionals. Our team will come to your location to accurately determine the correct measure of action for your specific situation. Read below to better understand the potential rain gutter issues and remedies you may be facing. For additional questions and information, reach out to Paradise Ridge today!
How To Fix A Gutter
There are many situations where the entire rain gutter doesn't need to be replaced, and it can be easily repaired instead. In those situations, you will want to pay special attention to the following guides below. If you get stuck or have questions, call Paradise Ridge for help. If you plan on repairing your leaky gutter on your own, then make sure to be safe, and have all of your materials and tools ready to go. Repairs are best done in the dry season if possible. Working in the rain can be much more difficult, and dangerous. While we often don't realize we have a leaky gutter until it rains, by taking care of issues right away, you can minimize more difficult repairs later.
Fixing Leaking Gutter Corners
Replacing a gutter is a surprisingly straightforward task. However, it can still be a very tedious job, especially when working alone. Being prepared will help. The first step in fixing a leaking gutter corner is to remove the old corner piece. You will need to disconnect it from the surrounding gutters by removing nails and screws. At this point, you should clean the area thoroughly, paying special attention to removing any rust that may have built up over time. Once the work site is clean and dry, you can install the new corner piece snugly against the existing surrounds. Make sure all connections are secure so that water will drain properly once everything is back in place.
Finally, finish off with some primer or sealant around your new gutter connection to create an extra layer of protection and make sure rainwater won't be able to form any new leaks. By checking your gutter regularly, and fixing them in the dry season, you can ensure a good adhesion from the sealant. When you have metal against metal, there will always be gaps that water can make its way through. By giving sealant the full amount of drying time necessary, you can avoid leaking gutter corner transitions.
Can I Fix A Sagging Gutter?
The answer is yes, you can fix a sagging gutter. There are a few options depending on the circumstance, but here are a few general guidelines. In some cases, you will need to unscrew and readjust your gutter in the same way you would to install a new one. Oftentimes, when this is the case, homeowners decide just to replace their gutter instead of fix because the amount of work is almost the same. If you need to unscrew and reattach your gutter, follow the steps outlined above for "fixing your gutter".
Another option for repairing a sagging gutter when applicable is to install hidden hangers, or increasing existing hangers underneath each section of gutter. If you install new hangers, you will want to implement them the entire length of your roof. This will likely solve this issue once and for all. Since you are already taking the time to fix your sagging rain gutter, you won't want to skimp on the process. Make sure to install hangers close enough together to avoid future issues.
How Do I Repair A Section Of My Rain Gutter?
A damaged rain gutter can quickly become a headache for homeowners. A section of the gutter that is not functioning properly can result in water damage to your home's foundation, walls, and landscaping. Luckily, repairing a damaged rain gutter section is achievable with the right tools and techniques. Start by identifying the problematic area, inspecting the damage, and purchasing a suitable replacement. With the use of a ladder, remove the damaged section of the gutter by detaching it from the house as well as the other sections of gutter. Typically your gutter will be broken up into shorter pieces, so you can avoid making cuts. Make sure the new section of gutter overlaps with the other sections. Finally, seal any transitions, gaps or holes to prevent future damage. Repairing your rain gutter can be simple with proper instruction and tools. Keep your home's foundation secure and avoid expensive repairs by fixing problematic gutter sections immediately.
Ways To Stop Gutter Leaks
When you need to stop gutter leaks, you have several options. You can replace your gutter, or repair it. If you choose to repair it, you first need to locate the leak point. You may just need to re-caulk it, in which case you will want to remove the old caulk with a plastic scouring pad. Make sure to fully remove any debris so the new caulk can make a complete seal. Clean the area with denatured alcohol, and let dry before applying a new caulk. You will want to select a waterproof caulk made for metal such as DAP Ultra Clear Flexible All Purpose Waterproof Sealant. Let dry fully, and test.
---
---